Hey! Long time no crafts! How's your Halloween so far mga mommies? I know some of you are on a long weekend, buti pa kayo! *insert.sad.face* And here I am at the office taking advantage of the double pay wehehehe! So last October 15, 2016, we were invited to attend the

Mommy Bloggers Philippines Mad Hatter Halloween Party

. The theme was Mad Hatter but we can have the kids wear their different costumes and there will be a prize for the most creative hats. I knew that I can never make a Mad Hatter Hat or better yet find a costume for Mad Hatter. Plus I have two kids and I only had a week to prepare so there's no more time. Cramming was never my game but I really needed it that time. He He He! I am never really good at rushing things and that is why I never really accepted any made to order crochets before. On the last minute, I decided I would make crochet beanie hats for my twins. This is their very first Halloween together and I promised myself last year that if ever they will join this year, I should make something by hand. We already have costumes available. I bought a spiderman and a robot (I think or transformers ata) when we were invited from a costume birthday party months ago from SM Taytay. Though the costumes that they have already got a hood, I still made the beanie hats just so we could join the Mad Hatter Hat Costume. And so this is how I made our last minute crochet beanies for Halloween. :p
If you were here before my blog becomes a Lifestyle blog, this blog is supposed to be a DIY blog for my crochets and other related crafts. Being a full time employee, I am always at work so it was very hard to keep up with post about DIY crafts. One of the things that I really enjoyed doing was crocheting beanies for kids. I already had several beanies that I made for my twins since they were little. Please see

Minion Crochet Beanie

,

Mike Wazowski Crochet Beanie

,

Polar Bear Crochet Beanie

,

Football Crochet Beanie

,

Owl Crochet Beanie

, and

Cluster Crochet Beanie

. All of these beanies have the same simple patterns aside from the latter. After several months of not crocheting, I am glad that I can still make one beanie in a sitting. It was a struggle to complete the beanies. Aside from I am at work 9 hrs a day, there are also two boys who will distract me and will knots all my yarns while I am crocheting at home. I can't believe that I pull it off. :p
Back to the beanies, I checked my yarns and was really happy that I had the colors that I needed. I made used of red, black and white yarns for the Spiderman Crochet Beanie. While for the Robot Crochet Beanie I used gray, and blue yarns. Initially, I wanted to make a

Transformers Crochet Beanie

but the design is so complicated and will not make it on time. I went ahead with a simpler pattern.
Started the rounds with a magic ring and continued it with double crochets to make this round. Please see my other crochet beanie works for the exact numbers.
Almost done with the hat and just realized that it was too big on my son's head. Cramming pa more! :)
Lining is on color black.
I was really tired when I can't think of on how to make the eyes. So glad that I found this pattern from

Marinella

.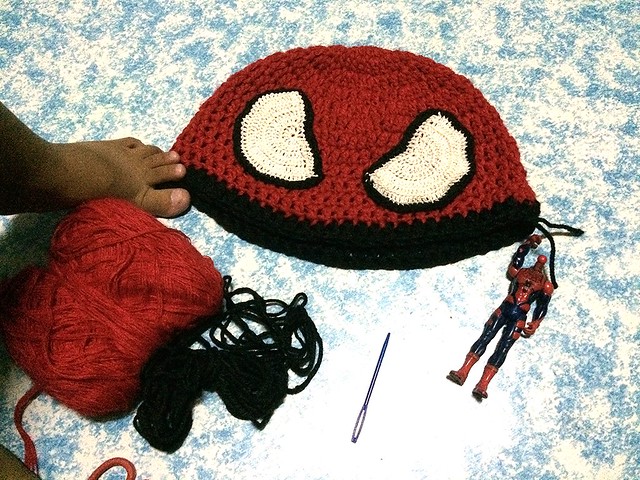 Almost done and someone would like to join the photo ops. :) Kawawang spiderman, wala ng ulo! :D
Finished the beanie with an earflap and braided yarns.
My model wearing the Spiderman Crochet Beanie. :)
It was Wednesday when I decided that I would't make it for another hat. Then I decided to take it to our office. Hello boss! :) As soon as I'm done with my emails, I immediately made this robot hat. I managed to finished it after 4 hours (I think) and had the ears, eyes and top part stitched at home. Thanks to this pattern,

just copied the ones for the eyes, ears and top portion.

I then realized that my robot doesn't have a mouth! That my friends is how you crammed, may nakakalimutan tuloy! :D
And here is my model sporting his Robot Crochet Beanie.
Our Last Minute Crochet Beanies for Halloween! Made it for almost 3 days lang! Whew! Hindi nakakatuwa ang magcramming sa totoo lang but anything for my children and in the name of crafts, gorabels lang! :) :) :)
Here are my two boys with their Spiderman Crochet Beanie and Robot Crochet Beanie.
I can't have them wear the hats the whole day at the event.
I also don't have any decent pictures of their whole costume. Oh well! :)
We didn't win which is ok as long as they enjoyed the event. These beanies are another addition to our collection of Crochet Beanies. I hope you like this post and see you soon for more of my DIY!